PUNK'S NOT DEAD: IT'S JUST BEEN ASLEEP FOR TWO YEARS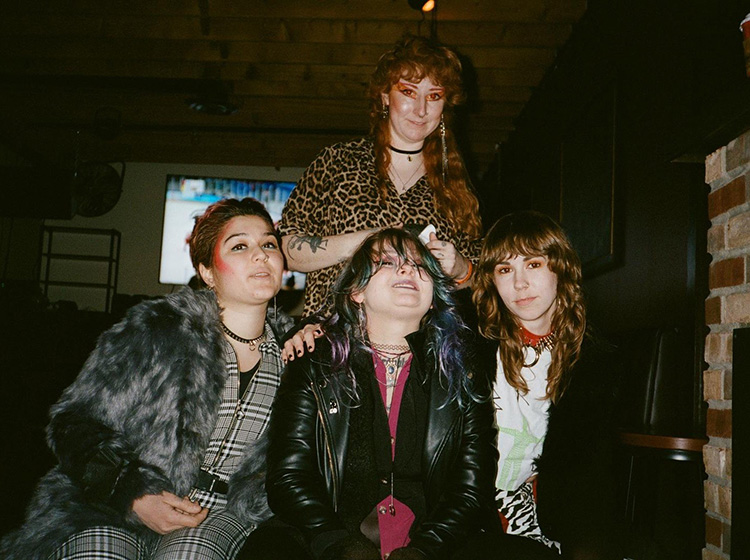 Just before showtime in February, Bad Waitress (BW) roars through soundcheck, and spirits are as high as their platform shoes as they get their first taste onstage in months. This is the band's first gig since the province was locked down in January, and the usual pre-show jitters are amplified by the growing sense that live music in Toronto may finally be making its long-overdue return.
Sweaty, howling, with eyelids covered in glitter, the band makes their way to the upstairs bar where I am to chat with them before the show. Maybe it's the tattoos, bondagewear, and animal print, but there is an attention-stealing element to their group dynamic that gives a feeling of true, original artistry.
This four-piece of femme-punks is composed of bassist Nicole Cain (she/her), lead guitarist Katelyn Molgard (they/them), lead vocalist/accompanying guitarist Kali-Ann Butala (she/her), and drummer Moon (they/them).
At 8p.m., staff open the doors to Toronto's historic Monarch Tavern and a raucous crowd begins to trickle into the dimly lit bar; thrilled to seek shelter from the blizzard-like conditions outside and proceed to have their eardrums blown out inside. Their ages are greatly varied, but most are young, and the majority of them are punks; or at least dressing like it.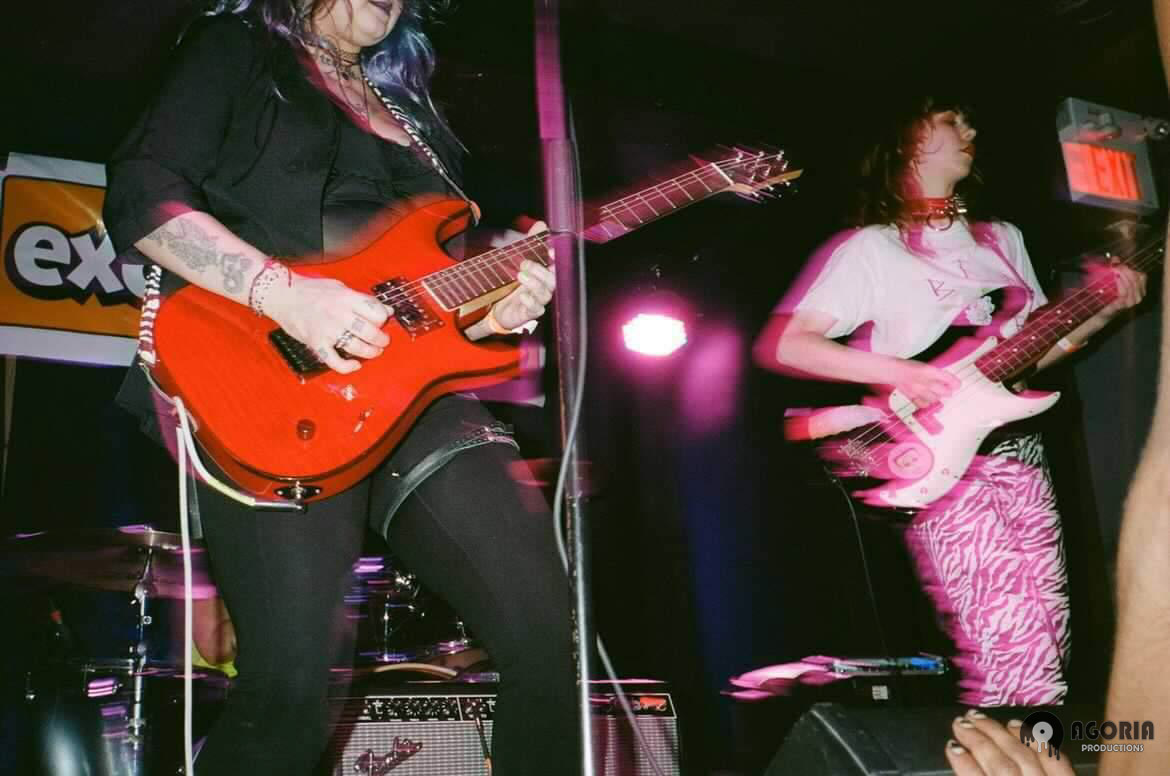 "I think it's good to feel a little nervous, because if you don't then obviously you're too comfortable. We're definitely nervous, but we're excited, mainly looking forward to actually doing what we're supposed to be doing."

Kali-Ann Butala, vocals/guitar, 29, Libra
The turnout is remarkable, especially during a snowstorm, but even more so considering the fact that the Toronto music scene is still reeling from numerous pandemic closures. Getting people back at concerts after a two-year period of limited social gatherings has proven to be difficult.
The energy in the room is distinctly different from previous shows in the past year. For much of 2021, venues were forced to restrict their events to half capacity due to COVID; giving the impression that concerts were unsafe for public gatherings.
According to the band, around 75 percent of Toronto's music venues and practice spaces were forced to permanently close over the past two years. The Canadian Live Music Association reported a 46 percent decline in the live music industry's national revenue, and Ontario's music scene lost over $454 million.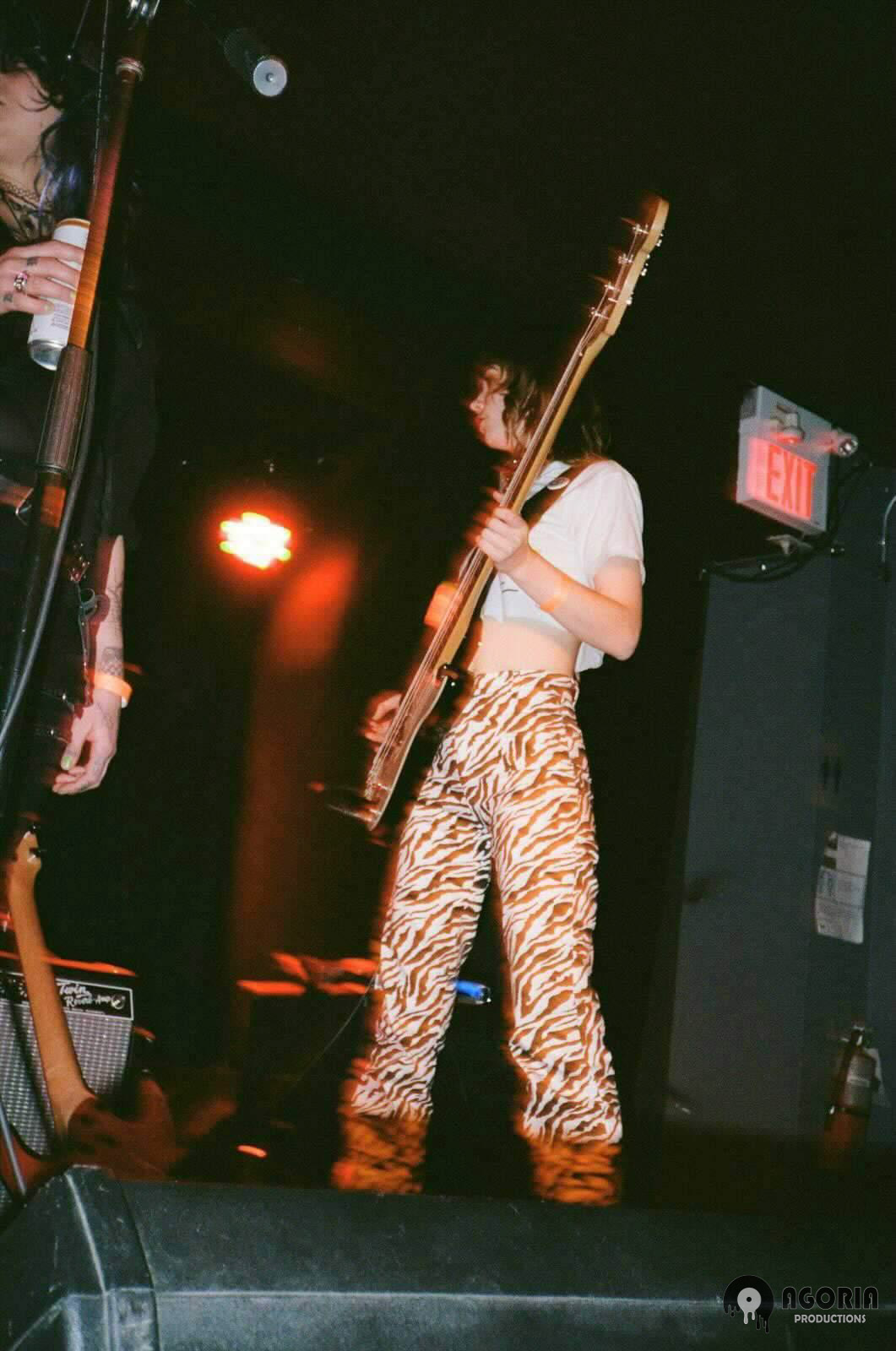 "You can't have live music if there's nowhere to practice. If there's nowhere for us to make noise, that's a huge issue,"

Nicole Cain, bass, 28, Sagittarius
"The verbiage they use, like 'essential workers', although true in an emergency, has been extremely destructive in how artists view themselves and their work," says lead guitarist for BW, Katelyn Molgard.
Closures had a catastrophic impact on the Toronto music scene and the local musicians who make their living off of it. Performing artists, like Bad Waitress, went out of work almost immediately after the pandemic began, but due to the sporadic nature of their work, most qualified for very few of the financial aid benefits made available to Ontario's unemployed workers.
"It's hard to get into the eligibility pool. That's often the most difficult part for people, especially if they aren't being represented by a label," says BW drummer Moon.
"Grant funding needs to be made more accessible for people who don't necessarily have these connections, but who are just as talented, working just as hard and who deserve it just as much."
As a primary source of income for touring artists, the ability to put on a live show is essential. When Ontario locked down and concerts came to a screeching halt, bands scrambled to establish their online music presence so they could pay their bills while striving to keep art alive.
"As a musician, getting paid to play shows and then selling merch too is largely how we make money and support ourselves," says BW bassist Nicole Cain.
"We don't have any band money coming in. We can't just rent a van to tour, and we can't re-up our merch since we've drained the bank account."
Bad Waitress demonstrates evocatively on stage at the Monarch that seeing a room full of faces is far more engaging than pouring over Spotify streaming analytics.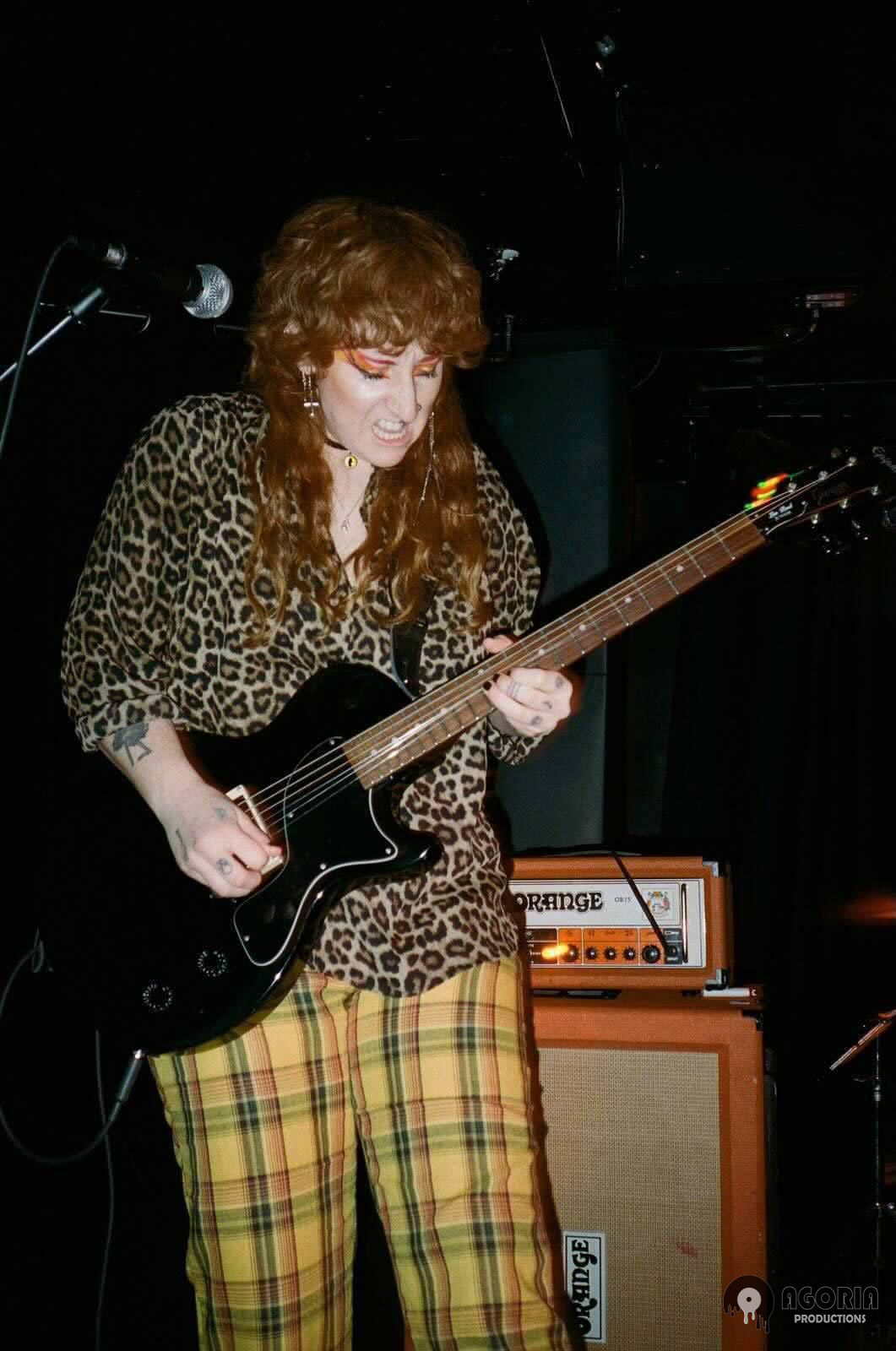 "It's like, it's not even real. You dissociate so hard when you're buried in your phone all the f*cking time, and nothing is based in reality."

Katelyn Molgard, lead guitar, 500 (or so) years old, Virgo
"We all know the internet is just a place where people show others what they want them to see. There's just no soul in social media, cause everyone knows it's not real," says Molgard.
"When we're live in person, you get a better idea of who we actually f*cking are and that's really where Bad Waitress shines. Our identity lies in our personalities."
Despite being a city renowned for its flourishing arts and culture, over the past year, the local scene has been gentrified by affluent, trend-hopping musicians who've profited off the pandemic to commercialize their art. The local scene has become, by definition, one-note.
"Nobody wants to sign you unless it seems like you already know that you're on the way to do it yourself, and the only way to do things yourself is by having the income," says Molgard.
Bad Waitress feels that this is just a temporary rough patch and the city's talented, hard-working artists will prevail in the end to get the recognition they deserve.
"I think it's just gonna be a phase that comes in and out once in a while in the Toronto music scene, like how that mumble rap came in for a bit!" Moon, drums, 30, Capricorn

Moon, drums, 30, Capricorn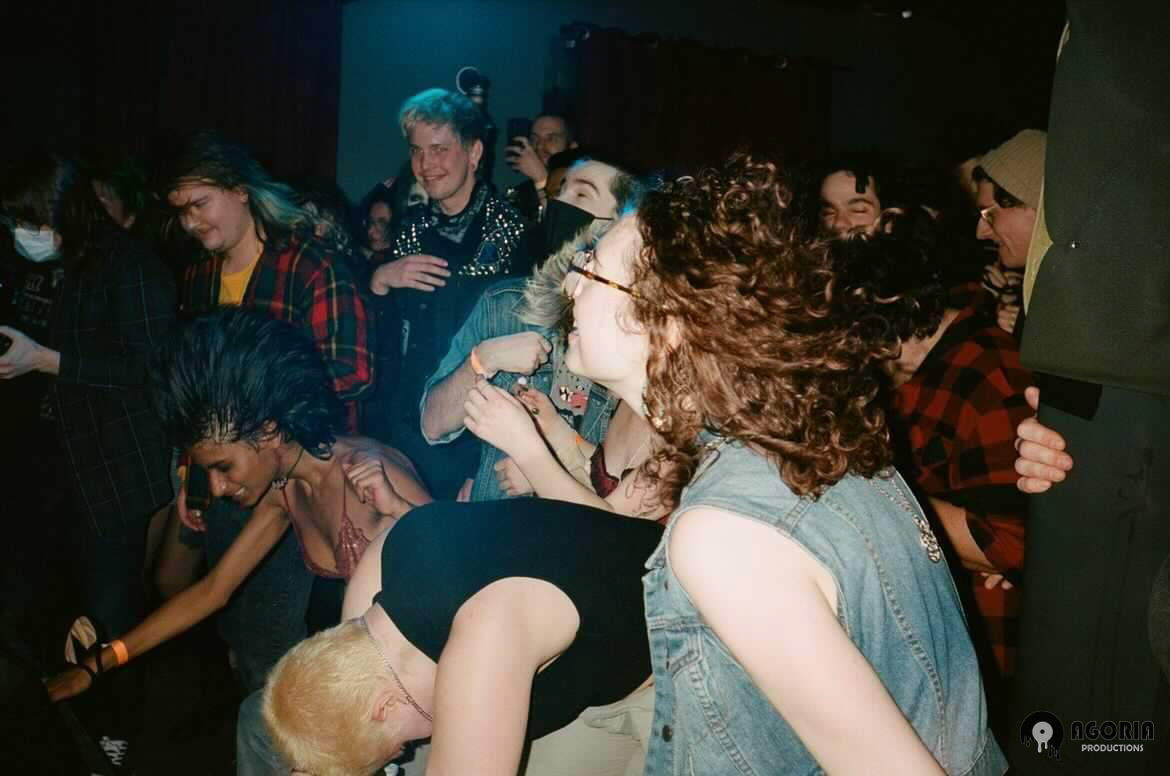 For many at tonight's show, it's the first time in months they've voluntarily sardined themselves into a crowd; with tonight's being noticeably diverse. The cautious, nervous atmosphere that emerged due to COVID anxiety is replaced by an entirely new sentiment: curiosity.
At the Monarch, the general anticipation of a good show hangs in the air like a cloud of smoke. As the room fills and everyone clumps together at the foot of the stage, the environment takes on the familiar adrenaline-fueled ambiance of a true pre-pandemic rock show.
If you thought you came to see a girl band, prepare to be sorely mistaken. Bad Waitress is no 'girl band' by any means.
"If you're gonna go with the whole, 'women have to be quiet and sweet and demure, wash the dishes and suck your dick and go to bed' ideology, that wouldn't be any fun to watch on stage. But that's not who we are, because gender does not define us."

Nicole Cain, bass, 28, Sagittarius
Punk music has a longstanding history of imposing gender-based stereotypes on women with guitars; due to their more fragile and docile nature, coupled with the fact that it's shameful for women to revel in sex appeal, it's assumed that girls just don't belong together in a band.
"Since the 60's, men were allowed to run amuck, be stupid, wear dumb shit, be drunk idiots that trash hotel rooms and nobody questioned it. They thought it was rock n' roll," says Molgard.
"But if a woman tried to do something like that it would be a front against society. People would think it's unladylike-, she'd be f*cking institutionalized!"
This musical double-standard has been disproven by countless talented all-female bands since punk music's conception in the mid 70's, yet traces of these misogynistic preconceptions still linger in the industry, especially in terms of who gets booked for shows.
"They'll be taking a gamble hiring someone female, non-binary, or mostly femme-presenting because of this outdated stereotype that females are busy thinking about other things rather than getting nitty-gritty and down with their gear."
Where a 'girl band' is tame and domesticated, the members of Bad Waitress tear up tonight's stage with the ferocity of a wild animal, and just as a reminder, half of the band aren't even girls.
When they take to the stage, their sound swallows the audience, chews them up, and spits them out. The blood-curdling volume at which they shred their respective instruments sets every pair of ears ringing and sends everyone in the room into fits.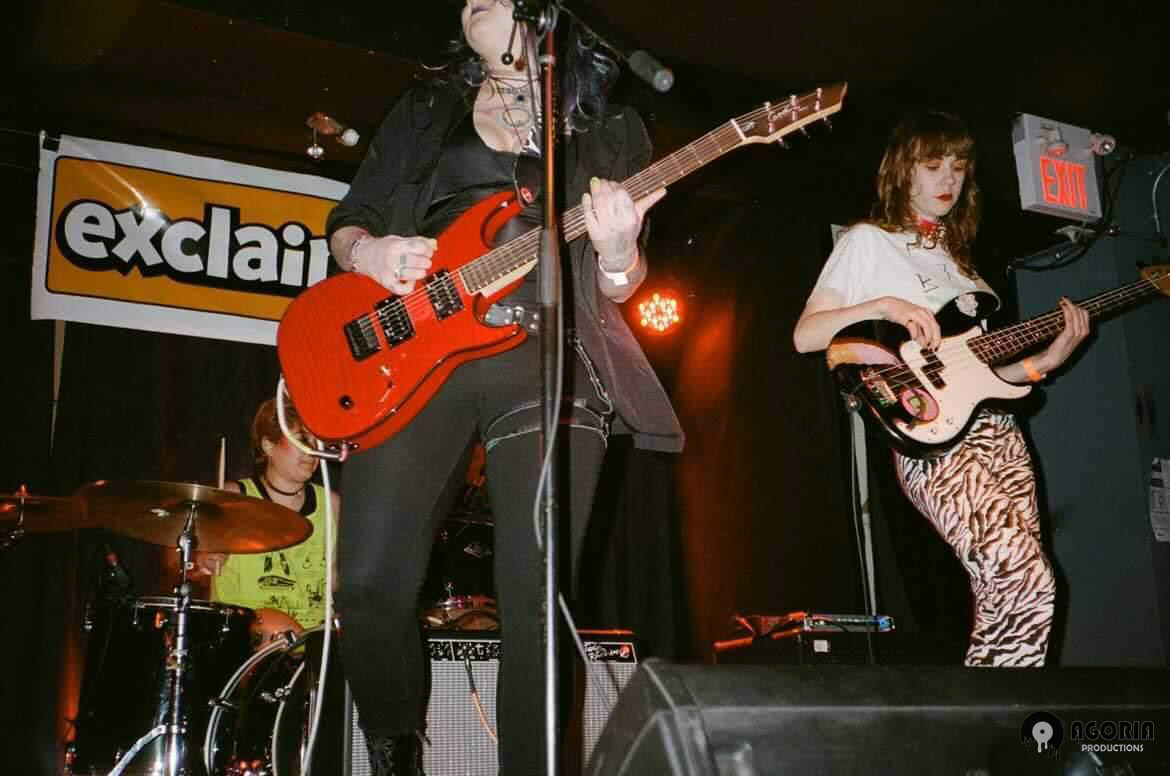 "A lot of artists take themselves way too seriously, which we definitely f*cking don't. That's our number one." Katelyn Molgard, lead guitar, 500 (or so) years old, Virgo

Katelyn Molgard, lead guitar, 500 (or so) years old, Virgo
A shapeless, genderless mosh pit begins swarming at the foot of the stage. Bodies crash into each other, and if someone falls, a stranger appears with a free hand to help them up.
Overcome by the tidal wave of human connection, I say, 'ah, what the hell' and jump in, because isn't this what it's all about?
"You've gotta start from the ground up, you have to change people's minds and change people's cynicism towards the arts." Katelyn Molgard, lead guitar, 500 (or so) years old, Virgo

Katelyn Molgard, lead guitar, 500 (or so) years old, Virgo
Katelyn, Moon and Kali all met through the local Toronto music scene and by 2015 had formed a band under the name 'The Nude Dogs.' Eventually, they reached out to Nicole on Facebook while searching for a bass player and by 2018, Bad Waitress was fully formed.
The band credits their formation to the welcoming inclusivity of the local scene, and this is why everything must be done to protect it from dying.
Today's polarizing social climate is marked with divisive animosity that has left the majority of people feeling detached and disconnected from one another. The antidote lies in the far-reaching Toronto arts scene; which, in the past, has consistently managed to bring the entire city together.
"We need to rescue these venues and these practice spaces to make sure there's still places for us to exist," Nicole Cain, bass, 28, Sagittarius

Nicole Cain, bass, 28, Sagittarius
"The arts are always the first thing to go when things go south. Just look at how expendable we all felt over the last two years," says Molgard.
"It has to start with the understanding of the necessity of it; how desperately humanity needs any kind of art. We need music, we need theater, we need dance, all of it. We need paintings, we need colour, otherwise what are we? What do we have? It's like a Soviet block in east-Germany. We're already building walls around ourselves constantly."
If you are able, and if you dare, you may just want to go check out that band you've never heard of at that venue you didn't know was still around and open for live shows. By going out and showing up, you'll help ensure live music can thrive in Toronto again. You may just end up playing a small role in restoring the heart of the city. You may even have fun!