Fans are the life preserver the independent music scene is searching for.
When the music starts and the lights go down, all eyes in the room pan to the performer on stage; The name plastered outside the venue, the logo printed on t-shirts and stitched onto hats-, they're the reason those sets of eyes are even in the building.
These eyes belong to die-hard fans, critics, and the people who got dragged out of the house because they were told "it would be fun." They are the other half of that performance, making the entire event possible with their presence-, and their wallets.
In the El Mocambo Tavern (Elmo), a Toronto venue celebrating live music since 1948, I sit in the neon-soaked second floor, waiting for the doors to open and Indie Night In Canada (INIC) to begin.
INIC began in 2009 as a showcase for Canada's most exciting up and coming artists, providing a means for performers and industry professionals to network and demonstrate their talent.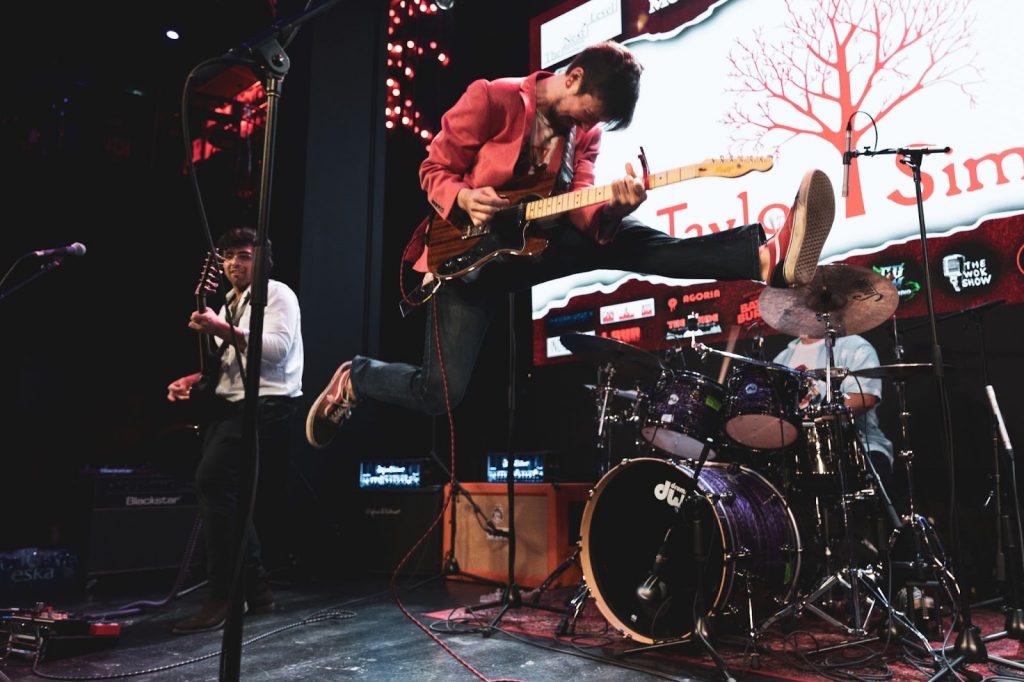 A diverse selection of 18 musicians wait to perform for INIC on the same stage once shared by Lou Reed, Canned Heat and infamously, The Rolling Stones-, who can say they did blow in the green room before performing for Pierre Trudeau's ex-wife, Margaret.
Ultimately, it is the unspoken connection between the two entities, audience and artist, that stokes the euphoric flame achieved through live performances; the mutual feeling of being part of a collective bigger than yourself.
The enigmatic connection reigns true for all forms of consumable media, acting as a critical limb of the music, radio, television, and social media industry. Forging a personal bond allows people to feel deeply connected with what they are listening to, encouraging them to come back when they can relate and understand the people behind the content.
By strengthening these connections, people encourage the growth of artists; pushing individuals to become icons, icons to become stars, stars to become black holes who implode into iridescent quasars when their next album doesn't "suck eggs," like the last one.
As I'm gazing behind the stage at the seemingly endless reel of band names on tonight's lineup, a woman asks me to take a picture of her behind the same stage where Cheech and Chong probably forgot where they were and what they were doing.The reel of logos begins its journey back through the loop, and I wait patiently with my hands hovering over the capture button until Rose Corra Perry and the Truth Untold logo finally appears.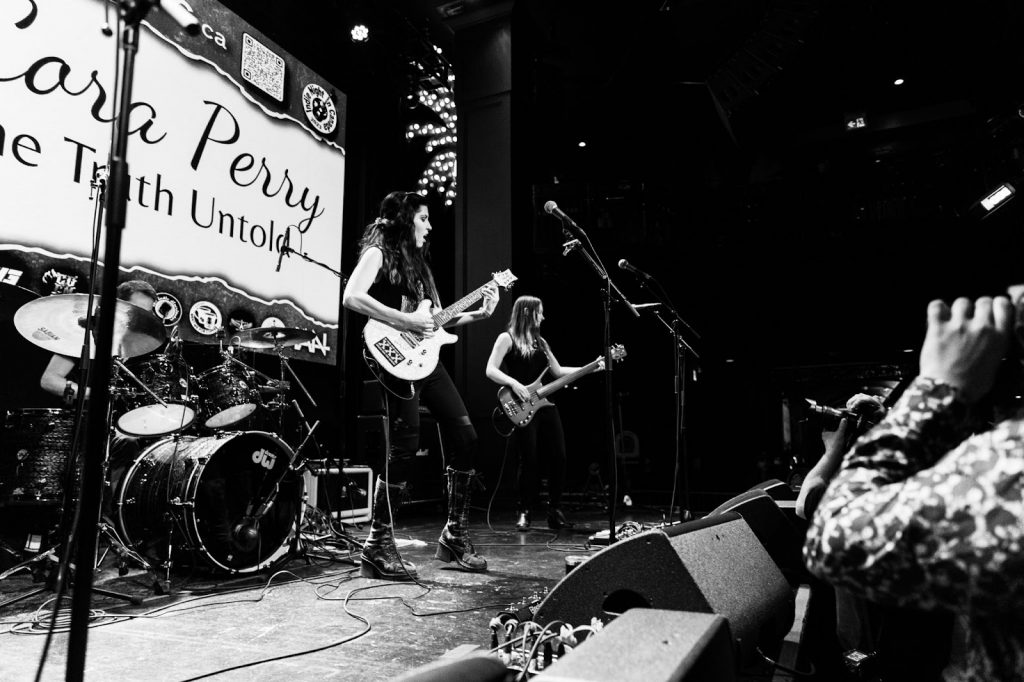 After discovering they were a band and not just people who arrived fashionably early, I convene with Rose Corra Perry and her bandmates, Tyler Randall and Jessie Taynton, otherwise known as "the Truth Untold," in the rear stairwell of the Elmo, a few feet from the locked door of the upstairs greenroom.
Perry says there must be a return to a grassroots mentality between other bands and venues to help strengthen the connections between artist and audience.
"I get frustrated when I see venues advertise live music but then expect the band to bring their own PA and do their own thing," said Perry. "I think it has to go back to that kind of community where everybody is taking part and wanting to foster engagement and not just putting the onus on the talent to do everything right."
Perry says that people's relationship with music and live venues has changed over the last few years. Former concertgoers may not be comfortable yet in a live setting around large groups of people, or have moved on to other experiences they prefer.
The straightforward simplicity of being able to entertain oneself within their own home has never been more appealing with quick and easy access to an ocean of content online. Pairing this with the average cost of mixed drinks and cocktails averaging $10-$20 with a $100 Uber home has allowed people to feel fulfilled never leaving the house.
Perry says bands must become more united in their efforts to create standards within the industry to challenge this.
"What if one band says that it's acceptable to play at a venue where they have to provide their own PA, have to do their own sound and accepts beer as payment. That sets a precedent and ruins it for the other artists," said Perry. "It's really important to be mindful that we're all in this together, we all want each other to be able to succeed and be the best that we possibly can."
Down below, in the more divey and compact section of the neon palm, one might find Homer Simpson ranting about the Blue Man Group. With a lower ceiling and elongated layout, the first floor of the Elmo has been perfected to deliver that raw and direct sound that muffles the stupid thing you just said to the girl you're hitting on.
In the left corner of the stage lies an unlocked green room, as tight and cramped as the main floor, but far brighter, and in fact actually painted green. Overall, a perfect space to talk to Taylor Simpson.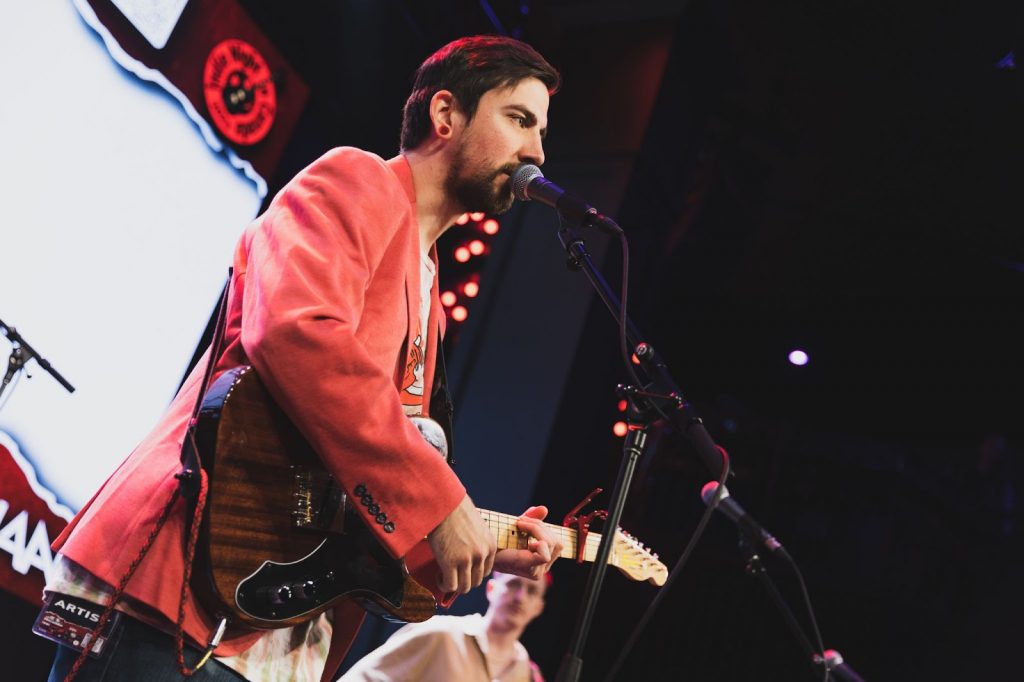 Simpson says he and his band, Taylor Simpson and the Wishful Feeling, have begun to take performing less for granted and are seeing the sentiment echoed in other acts and the audience through being present in both roles.
"Anytime I'm not playing a show, I support my friend's shows and I meet people, and it's not even about the networking either, I just like making connections with people," said Simpson. "I think that's something we missed out on during COVID, we all realized we need human connection and contact."
To encourage fans to care, musicians must play an active role and engage with the community. They need to make people invested. They must make people care.
The entire notion of going out has become polarizing to some. Becoming more active within the music scene and curating a presence on social platforms allows audiences to feel connected to the music by adding identity to help foster a welcoming scene.
When artists neglect to play an active role in the community, interest dwindles in both parties as fans attend shows less often, leaving musicians feeling unappreciated and unmotivated to continue playing to an empty room-, except for one member's overly supportive parents.
Back upstairs, searching for more bands whose time I can waste, I am pointed in the direction of a sharply dressed fellow in a pineapple bucket hat. The gentleman belongs to Fall of Earth, an Edmonton-based hybrid metal band who specialize in "heavy shit brah."
Brody Bauer, Fall of Earth's pineapple hat-wearing guitarist, says that being engaged with your audience online and in-person is critical to growth as a band and for the local scene as it encourages people to attend shows.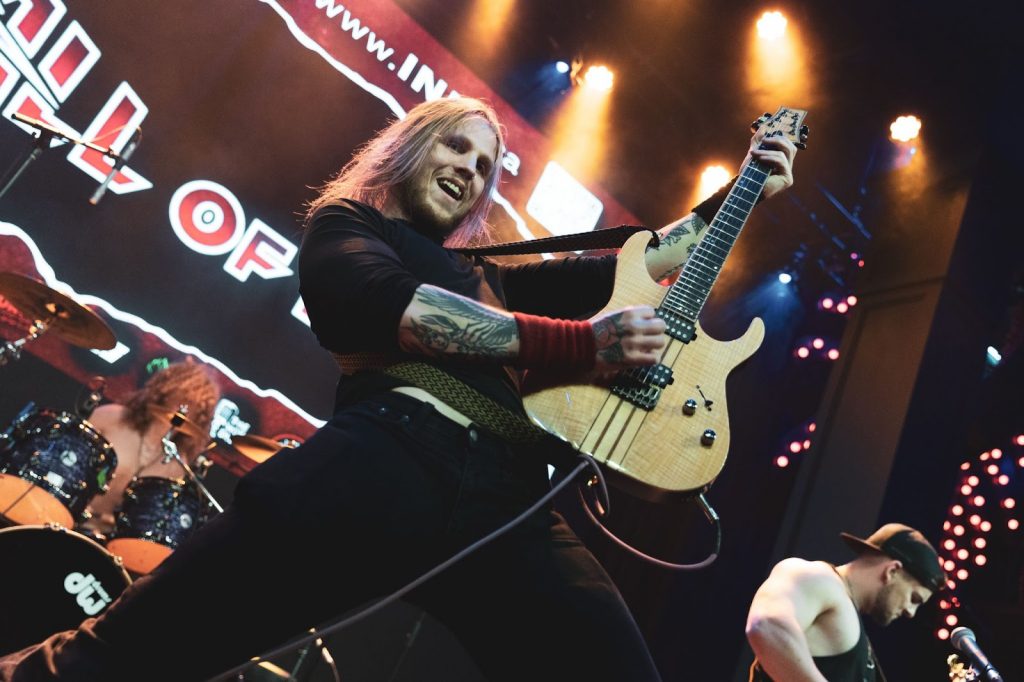 "We do a lot of stuff online, like commenting, replying to DM's, we've done giveaways for people," said Bauer. "We love signing shit, give us anything to sign and we'll do it with shoes, CDs, anything."
Having an active community presence reminds the audience that there are real people behind the instruments with feelings, ideas, talent and the coveted ability to sign as many shoes as you want. Musicians feel a greater drive to create while finding inspiration and motivation by investing in people and developing connections with listeners.
Bauer added that having an engaging and memorable stage presence is equally important.
"We have choreography that we rehearse and write for all our sets. We have certain moves, we synchronize headbanging, we even have a part of the song where we ask everyone to get down on the floor then jump at the same time," said Bauer. "That's the difference between watching a band and feeling like you're part of it."
Performing is a two-way street. Performers cannot exist without an audience, while the fans are left purposeless and drunk without music as a soundtrack to their treacherous journey up the gentle incline to the washroom.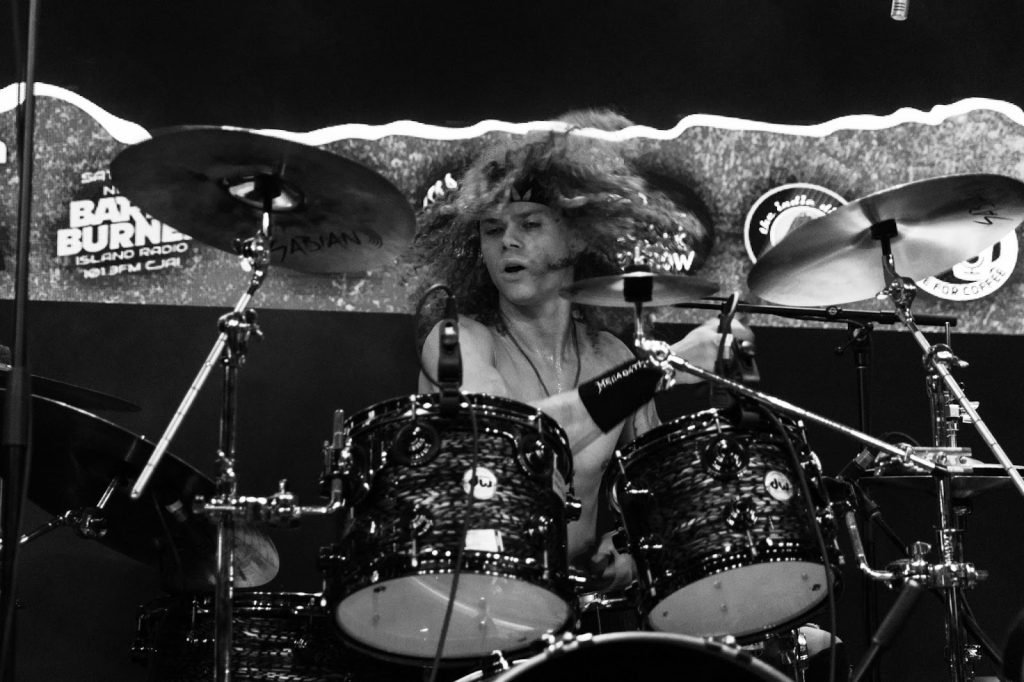 When artists begin to put less effort into their act, people begin to respond accordingly and find entertainment elsewhere.
This is especially prevalent in people who develop their own understanding of who the performers are. When musicians begin to half-ass it, people who create their own cookie-cutter image of a person feel betrayed when they do not live up to their unrealistic expectations.
Similarly for the audience, people must understand that performing is an art that needs to be perfected over time. Musicians are people who have their own faults and the ability to make poor decisions like calling their band something ridiculous like "Dananananaykroyd," or "The Beatles."
If people on both sides of the stage treat each other with respect and admiration then the music itself will be amplified loud enough to garner a noise complaint-, but will sound too cool for the cops to care.
Lucas Bustinski for The B-Side.