Meet FKB, the band that fell to earth-, and landed themselves on the Canadian Music Week stage.
The rockstar. Deeply embedded in the collective psyche of pop culture, the rockstar is an emblematic figure representative of life in the fast-lane. It is a title reserved for those who have reached a peak of flamboyant, self-indulgent artistry; whose music touches the soul, and whose presence is larger than life itself.
FKB, the Edmonton-native rock band who kicked off Canadian Music Week (CMW) 2022 with a bang earlier in June, describes the rockstar they wish to embody with just two words: glamour, and excess.
When FKB takes to the stage at the Wheatsheaf Tavern, Toronto's oldest bar, their glamour and excess kisses the cheek before slapping the audience across the face. The atmosphere in the bar, once hazy in a Monday-night stupor, has been resuscitated by the final act of the night.
Their dazzling getups are flashy and vibrant, outshone only by the band's electrifying energy on stage. To their audience's delight, FKB performs choreographed moves in unison while they play. The band's lead guitarist, Travis Topylki, begins shredding a solo on the floor in front of the stage in a hot-pink fur coat.
It is reminiscent of the type of rock show you'd expect from a bygone era, where rockstars are hailed as icons, and a backstage pass is the golden ticket to glimpse into a life of luxury.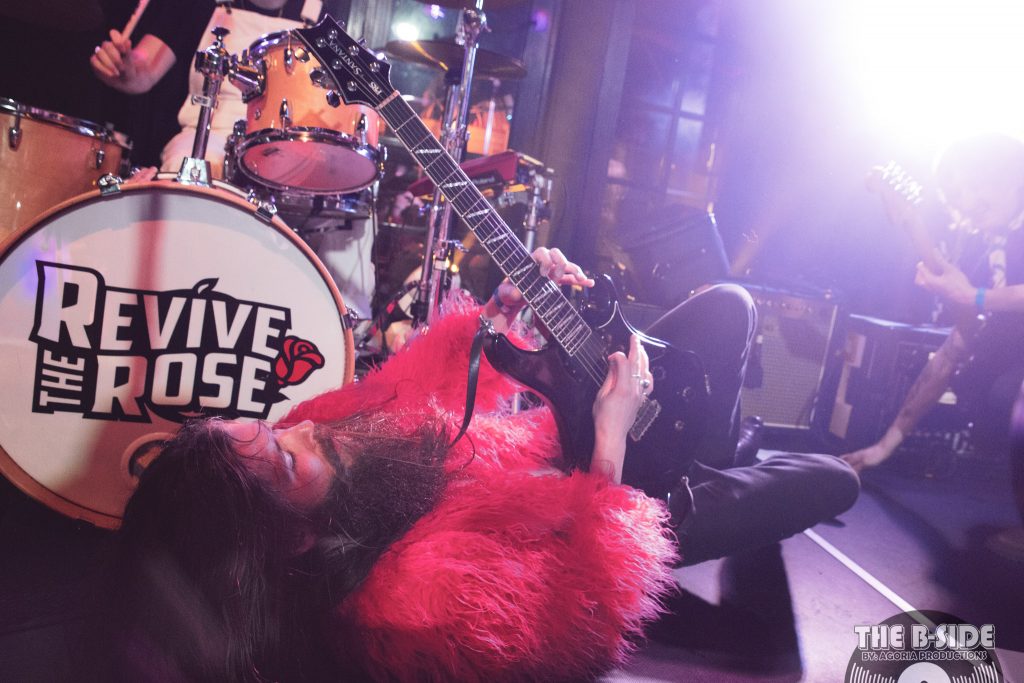 "We like to do everything over the top, and kind of fabulous. I mean, we like to dress crazy, jump around, and really give an exciting performance," says Drew Shalka, FKB's bassist and lead vocalist.
"The moment we step into the venue, the performance starts," says guitarist Alex Fedorouk.
"We wear our outfits, and people start to think, 'what're these guys about to do?' and then at the end of the show, if they enjoyed it, hopefully they'll remember it for years to come."
After two consecutive years of scrappy, capacity-reduced live shows, FKB's on-stage shenanigans are the sweet hit that everyone's been craving.
"I get super excited when we're going onstage, you see all the people and you can just feel their energy in the room. You can just tell we've all been doing nothing for two years, and now there's this huge demand for live music. There's this need and a hunger for it again," says Topylki.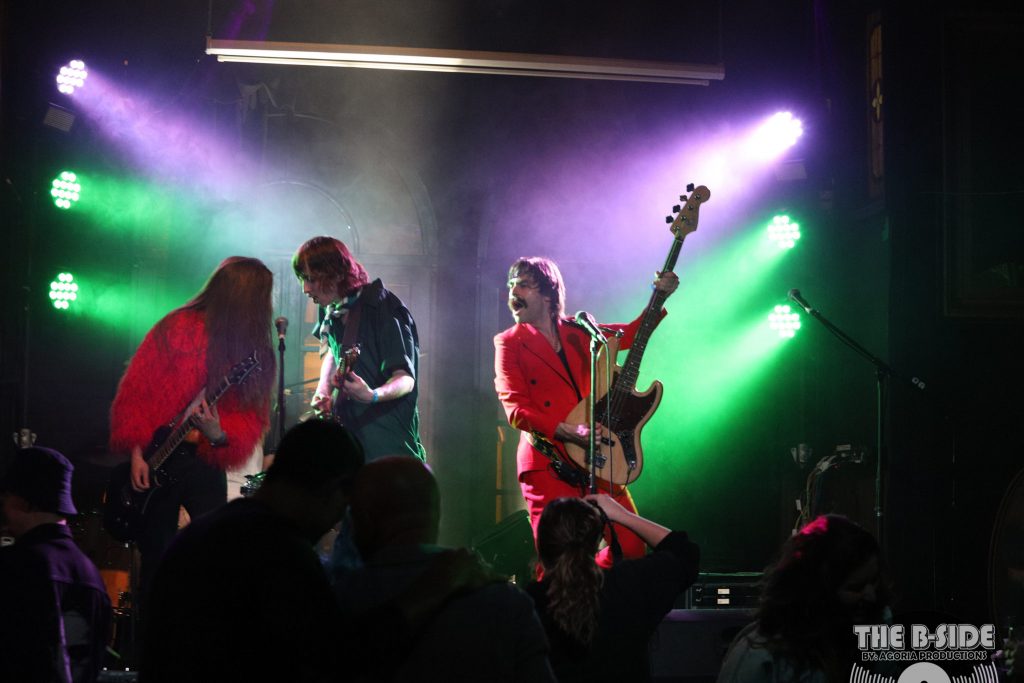 been to a good show in two years are even more blown away," adds Shalka.
"We want them to feel like they haven't seen this show ever."
The band is young, fresh-faced, and having a blast. Previously, CMW 2019 had been FKB's last opportunity to expand their reach in Eastern Canada. This time around, they return to the city with a vigorous excitement, amplified pressure, and an extravagant, solidified identity.
Their ambitions included meeting as many people as they could, and making as many friends as possible along the way. Very rock n' roll.
"Meeting all these people during CMW has really helped us in forming our band's identity," says Shalka.
"All these people we've met who've been in this business for a while have given us advice, given us fashion tips and weird bits of knowledge, and I'd say CMW has helped us walk away feeling more together than anything."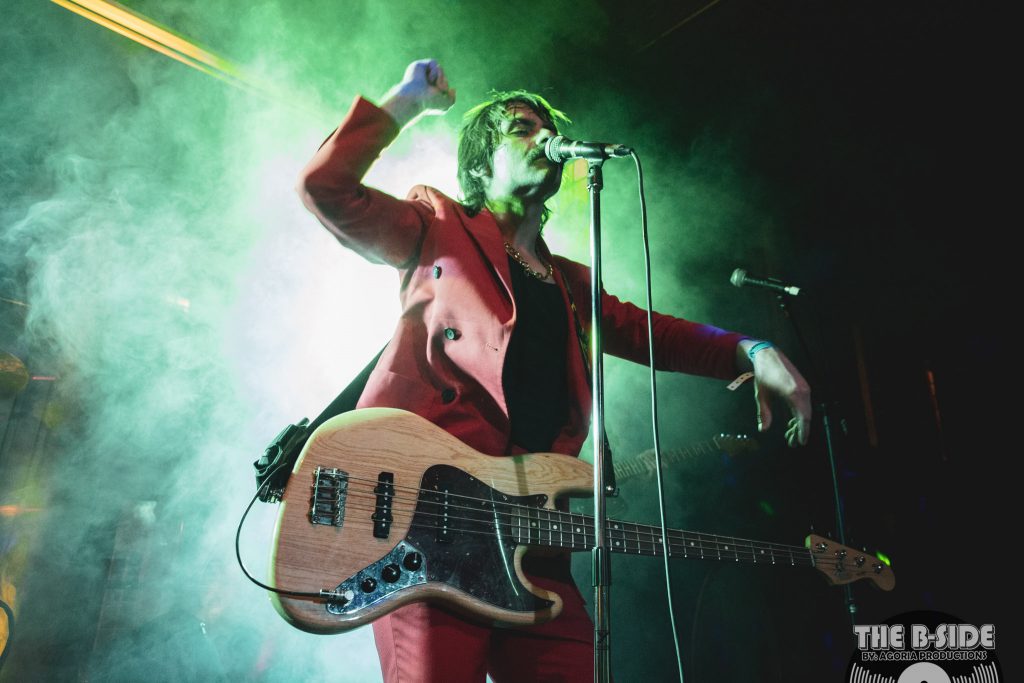 "We're all individually getting better as musicians and getting more creative with how we dress and present ourselves on stage. As a group, we're all still working to play with each other, but we're also trying to build our own respective stage characters," says FKB drummer Derek Chalut.
Their passion and personality come across as candidly unrehearsed. According to Topylki, much of their theatrical stage routine is taken from random improvisations that each member has pulled on the spot.
"We're actually pretty authentic on stage, and who you see is who we are. Even with the crazy outfits, the energy on stage is all us. It wasn't necessarily a strategy that somebody suggested, it just sort of naturally comes out when we're all together," says Fedorouk.
Having played around 250 shows together as a band doesn't hurt either. In fact, it's helped FKB remain confident in their group ability to pull off a series of ridiculously entertaining stunts during their live performance.
"I think being coordinated tends to make it feel like a group activity, and a lot of it just becomes intuitive. A lot of the ideas just pop into your head, and it's like, 'This would feel right-, I think'," says Shalka.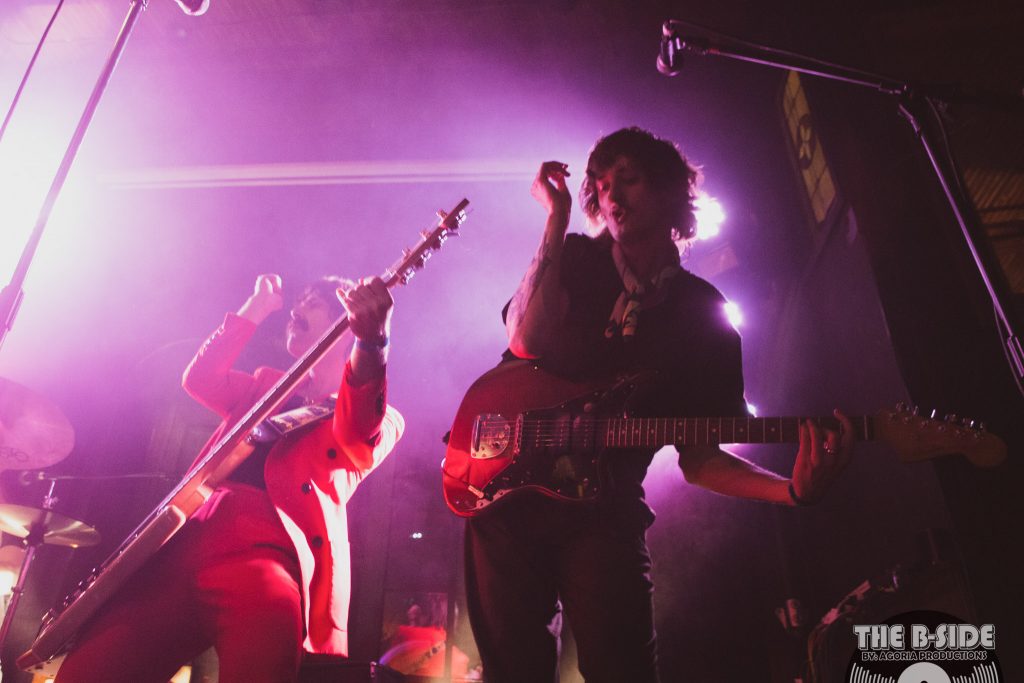 At the Wheatsheaf, the audience certainly felt in on the joke when FKB closed the show by continuing to play their instruments in a single file line, right out the front door and into the night's downpour.
They return to the stage, drenched, only to be flooded by industry representatives, who felt compelled to follow up with the immensely talented, soggy, rockstars. On behalf of The B-Side, I was one of them.
"The whole industry is dependent on so many people, you know? Journalists, photographers-, there's just so many. It's really nice to see all of those people coming to town for CMW, because that's also a huge part of live music," remarks Fedorouk.
The secret to FKB's attention-grabbing performance lies in their ability to incorporate what they'd personally find entertaining into their set. They use old performer tricks, trademarked by the likes of Elvis, to give their shows a sort of nostalgic campiness.
Sound-wise, picture a cross between Queen and The Weeknd. Bruno Mars meets Bowie. It's loud, it's audacious, with a rhythm that practically demands for synchronized pelvic thrusts.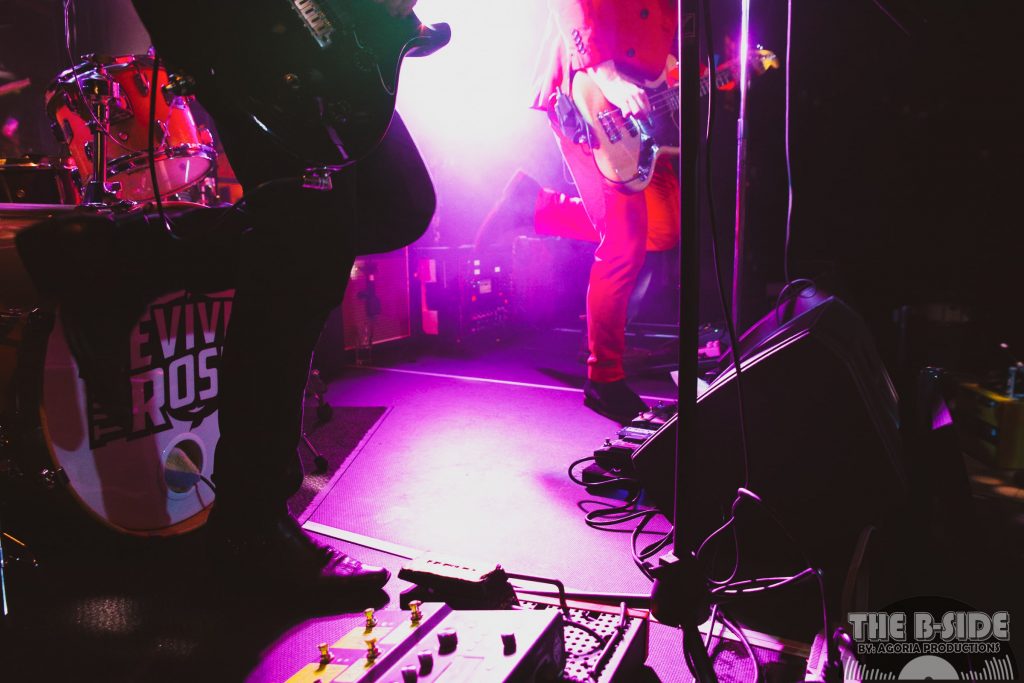 FKB owes their glittering presentation to a host of some of the most fabulous musicians in popular culture, like James Brown and Prince. As they all shimmy on stage in a manner that would make Mick Jagger blush, their nod to The Greats is made abundantly clear.
However, behind the exuberant charisma that drips off the band as they perform, FKB of Edmonton, AB., is simply thrilled to be getting an opportunity to do what they love, in a city with so many new people.
"In Toronto, so many of these places we've played are staples that have been here forever. The number of legends who have come through these historic venues is really interesting too-, hearing the histories of these tiny bar rooms, it's like, wow, Neil Young has played here!," says Shalka.
FKB was initially formed in 2009 while Shalka and Chalut were still in high school, after connecting over their mutual love of music from the teenybopper era of the early 1960's.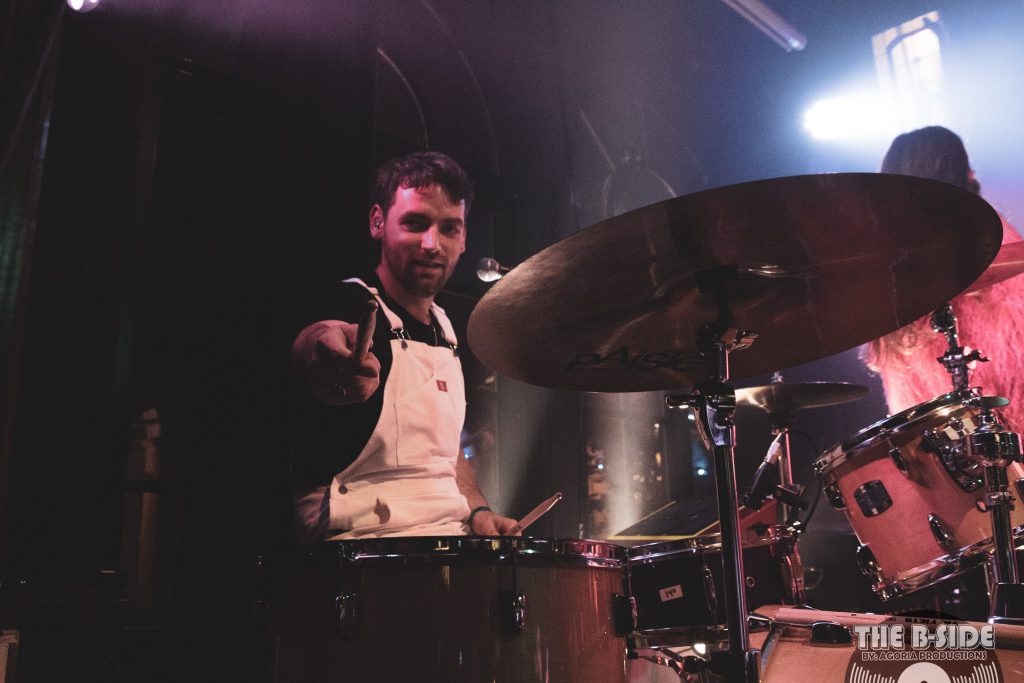 "We started discussing the Beatles and all those classic artists, so we decided we'd start a band that focused on that 50's and 60's-inspired music," says Shalka. "We used to do a lot of Elvis and Chuck Barry, and we'd play lots of influences that the Beatles and the Beach Boys would've had."
Following their display at CMW, if the band's goal was to gain recognition and leave a lasting impression on Toronto, one could say they succeeded with flying colors. To the members of FKB, it's nothing less than a childhood wish come true.
"Getting out and playing in front of people in our home town was a big step, and now playing across the country, it's a dream come true because I'd always visualize it as a kid. Being here, it's extremely fulfilling," says Chalut.
"When we're performing, every night is a different night, and nothing's the same. Different people, different energies, different faces-, the connection you make with everyone at these shows is why I love doing this." adds Fedorouk.
"That connection you make with your audience is just unmatched. For me, that's what really fuels my performance. I love writing music and all those behind-the-scenes parts of the job, but nothing beats a live show."
When it comes down to what truly makes the group so uniquely captivating, the answer lies in the honest truth that FKB holds a genuine love and respect for the art of live music above all else.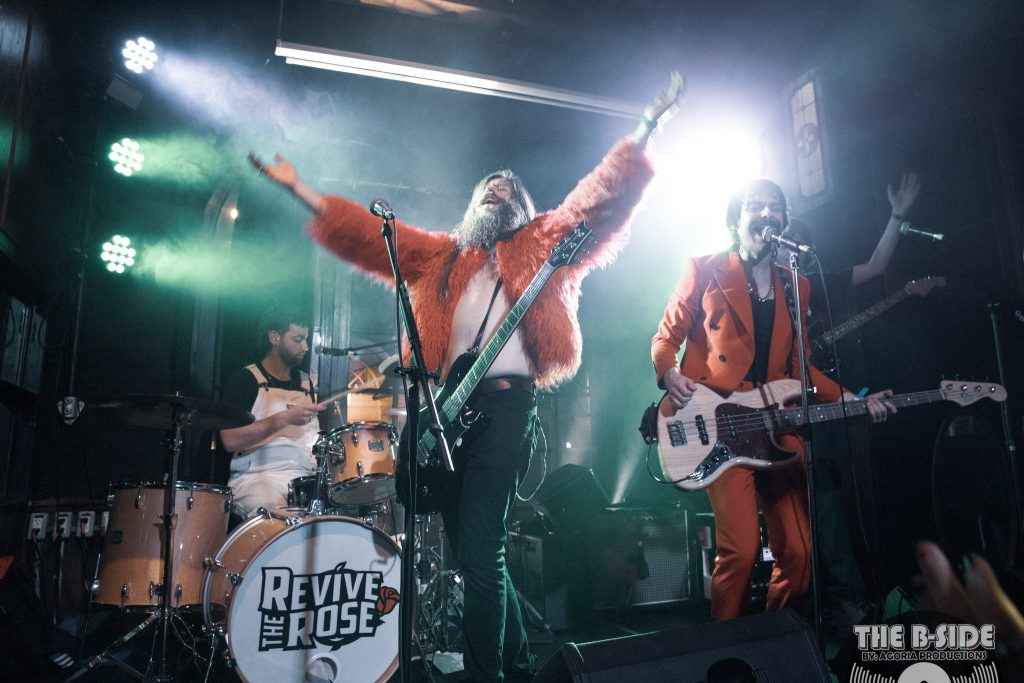 Their sound is refreshingly bona-fide, and instills their audience with the same devil-may-care demeanor that they carry with them on stage.
"I'd just like to be able to help people have fun, and forget about whatever else is going on in their life while the show's going on. I mean, that's what live music really is, it's just a chance to forget and enjoy the moment, and have fun," says Fedorouk.
"Seeing how the songs translate live, it's like, what makes people wanna sing? What do people enjoy, and what will turn their day around?" adds Shalka.
"After the show, sometimes we'll get comments from people saying we changed their entire day, and that's very exciting for us. That's really when we all get to see the power of live music in real time."
Now, the Toronto music scene waits patiently, with ears open, to find out just how high FKB will climb on their stairway to heaven.
Jess Bertan for The B-Side.